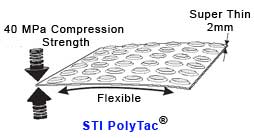 PolyTac is a TGSI product made from polymerized calcium ® silicates and quartz mixture; polymerization not only increases its physical strength, i.e. high compression strength, it also adds to it flexibility that does not exist previously. The end product is a TGSI that is readily applicable to any existing surfaces without going through excavation.
Cement based product like PolyTac in general has the inherent advantage that it does not loose its Slip Resistance when wet; furthermore, it does not "dog-ear" when one of its corners accidentally lifts due to poor installation. These properties make PolyTac and alike producst very attractive to out door TGSI applications.
PolyTac is the most advanced cement based TGSI product currently on the market. It breaks away from the conventional products that use high sand/garnet content for their Slip Resistance enhancement which usually results in brittleness that punctures easily; it modifing the polymeric ingredients. The end result is a highly coherent product that is much more durable than the conventional ones that breaks down when the sandy internal is exposed achieves better effects by .